English language lessons in sofia, Bulgaria

Hi! I'm Claire and I teach General English lessons and conversation classes for adults here in Sofia :)

Welcome!
Saturday conversation classes

Saturday is conversation day! 
The next course will begin after the Easter holidays.
Click for more about Saturday Conversation!
individual lessons

Want to improve your General English? I offer individual tuition - just you and me, working through a course that suits your level of English.
location
My classroom is at Bvd Totleben 39, Et.2, Ap.3, Sofia, 1606
It's very near Pirogov, in one of the blocks on the side of the street where the tram line is.
Here's Google's street view of the entrance:

~~~

Here's our classroom !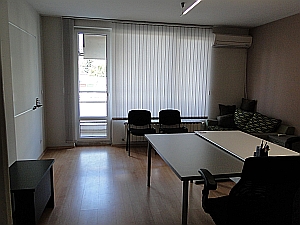 About me

I came to Bulgaria in 1990, teaching at the English Language School in Burgas.

I have also taught at the British Council in Sofia, as well as International House.

I hold a degree in Linguistics and International Studies, a Post Graduate Certificate of Education, and a certificate in Teaching English as a Foreign Language from the University of Cambridge.
What else? Well, I'm trying to start my second novel; I enjoy watching planes fly over our flat in Lozenets, and I wish I had the time to travel more; I'm a crochet addict; and sometimes I love cooking but it's always nice to go to a restaurant :)

~~~