How to read the mazer
sign up for an amazon account

First of all, you will need an Amazon account to buy Kindle books.
You can sign up with your local Amazon store.
I live in Bulgaria, and there is no local Amazon here. I use Amazon.co.uk for all my Kindle stuff.
I use my Bulgarian bank card to buy stuff from Amazon in the UK - including Kindle books. If you have any problems with billing etc, however, the people at Amazon are very helpful :)
Find Amazon stores around the world.

So make your choice. Different Kindle stores have slightly different choices of books and the prices may vary, too.
not got a kindle device? Then download a free Kindle app!

Here's my Kindle device.
But you don't need one of these to read a Kindle book!

Maybe you don't have a Kindle device.
No problem!
Because...

Amazon offer free reading apps for your PC, Mac, tablet computer or smartphone!
Yes - you can read Kindle books on your phone or computer.
Here's a screenshot of some of my Kindle books on my iPod Touch - which is almost identical to an iPhone (but without the phone, lol...)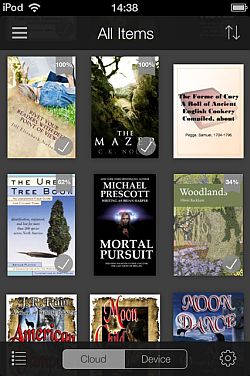 Kindle library on an iPod Touch
~~~

And here is what Kindle for PC looks like - it's clearer than this on my computer screen. This is the table of contents for The Mazer:
The Mazer- Table of Contents using the free Kindle for PC

~~~

I hope that this makes things a little clearer for you!
If you have any questions about how to buy The Mazer, you can get in touch with me. It would be a pleasure to hear from you.
Do remember that any question you have, others may have too - and I can add any useful questions and answers to this page.
Thank you!