The Royal Botanic Gardens Kew

Monkey puzzles
Peacocks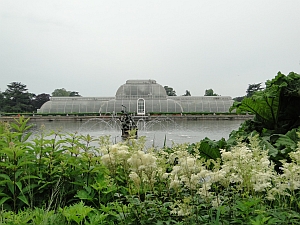 And the Palm House!
My walk around the Royal Botanic Gardens Kew, was as enthralling as it was WET!
Yes, the heavens opened the moment I arrived - but this gave me the opportunity to enjoy the place with very few other people around, as well as take some rather satisfying photographs of rainy trees :)
Finding your way around Kew

Kew Gardens is a big place! And Kew's Arboretum covers a large part of the gardens, with over 14,000 trees to admire. Impossible to cover everything in a day, obviously, and as this was one of my earliest tree walks I was not as experienced or prepared as I should have been. No map, for a start - so be sure to check the latest visitor information for the most up-to-date map of Kew Gardens.
Another idea: familiarize yourself with the gardens by using Google street view - yes, you can enjoy the gardens sitting at home, navigating your way around the main paths on your computer/tablet/phone!

my walk around the royal botanic gardens kew
I started at the Victoria Gate entrance and found my way to the nearest ladies' loo, which looked as though the gardens were beginning to invade: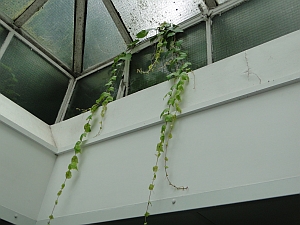 The loo...the bathroom...the toilet...the plants aren't worried what you call it!
After that, I made my way past the Temple of Aeolus, originally constructed of wood in the 1760s and rebuilt in stone in the 1880s. Apparently there's a good view from there, but I was hurrying along and didn't stop...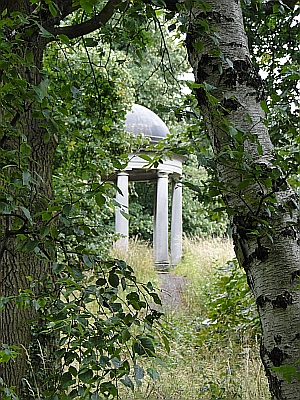 The Temple of Aeolus
On my way to the Plant Family Beds I spotted an oak labelled "Quercus" - presumably a common, or English, oak, with a traditional kind of label; nearby stood a black walnut with a more technological-looking label: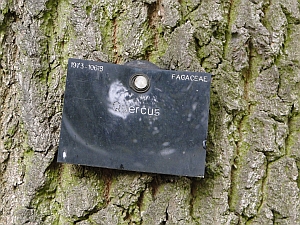 Oak bark and label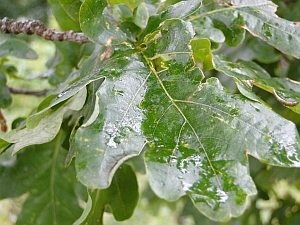 Oak leaf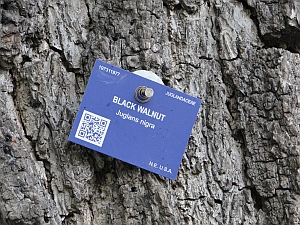 Juglans nigra - Black walnut - bark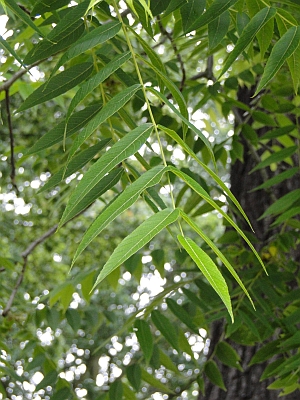 Black walnut leaves
And an Arbutus unedo 'Elfin King' - what a wonderful name! Known as strawberry tree:
Strawberry tree leaves
The plant family beds and the rose pergola

The Plant Family Beds were created in the 1860s. There are 102 beds and 93 plant families - so that gives you plenty to see just in this part of the gardens. The rose pergola, dating from 1959, is fantastic, even on a wet July day: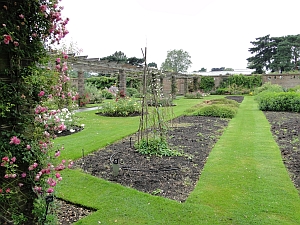 Plant Family Beds and pergola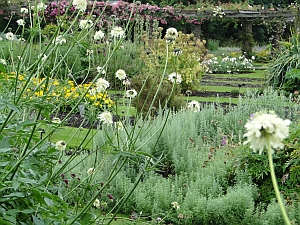 Another view of the Plant Family Beds
Walking under the rose pergola
I was super happy to meet the incredibly beautiful Feijoa sellowiana. Either a shrub or small tree, Feijoa is also known as pineapple guava or guavasteen.

Feijoa flowers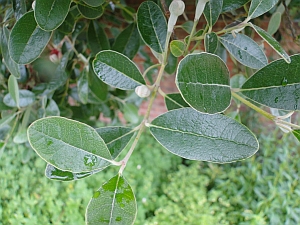 Feijoa leaves
And this giant is Magnolia delavayi, also called Chinese evergreen magnolia:

The giant leaves of Magnolia delavayi
on my way to the ice house
Stopping by the School of Horticulture, I was fascinated by two huge gum trees, Eucalyptus perriniana, spinning gum; and Eucalyptus pauciflora subsp. pauciflora, snow gum:

Spinning gum
Spinning gum flowers and leaves
Spinning gum fruit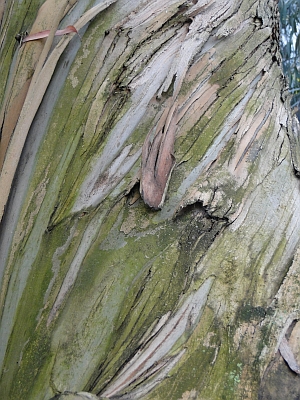 Spinning gum bark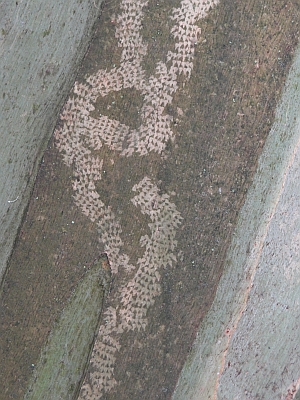 Interesting mottled bark on Spinning gum
Snow gum stretching high!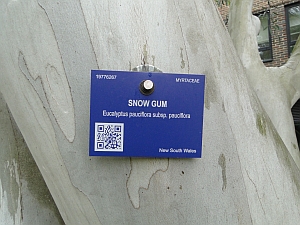 Snow gum bark
Leaving the gums (and dreaming of Australia!) I bumped into an Acer griseum, or paperbark maple: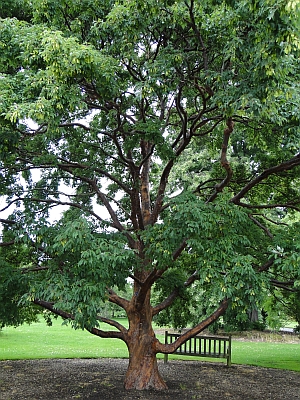 Paperbark maple tree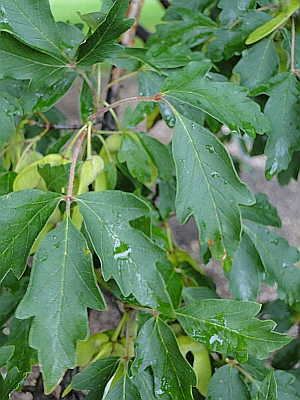 Paperbark maple leaves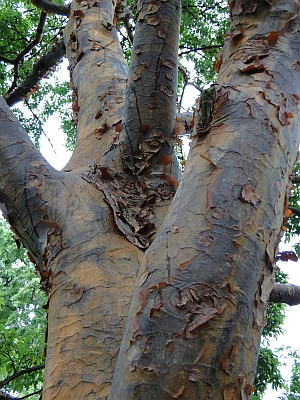 Paperbark maple bark
Our next tree is quite famous: Turner's oak, planted in Kew in 1798, and bearing the name Quercus x. turneri.
This tree is semi-deciduous, being a hybrid of Quercus ilex, holm oak, and Quercus robur, English oak. It's named after Spencer Turner, an Essex nursery owner, who grew the original saplings: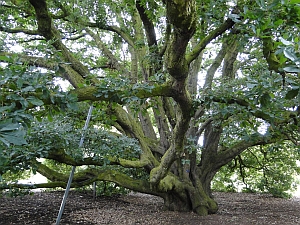 Turner's oak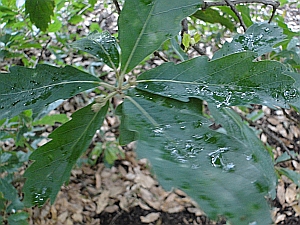 Leaves of Turner's oak
Somewhere between the gums above and Kew Palace, there is a Wollemi pine - but I couldn't find it, and there was nobody around to ask at the time. In fact, Kew was practically empty that day due to the weather! It's on the list for my next visit :)
I passed Kew Palace, but there was no sun for the sundial...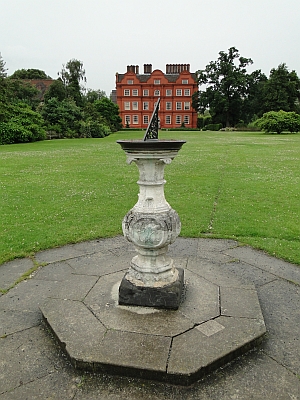 ...and I admired a rather handsome Araucaria araucana - or monkey puzzle, always a delight to see!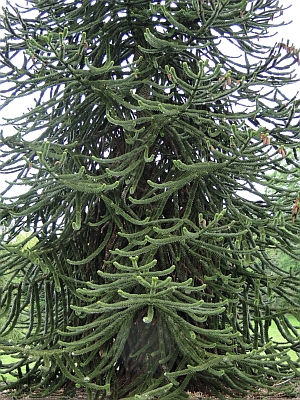 Monkey puzzle tree
Monkey puzzle leaves
Ice houses make me appreciate our fridges and freezers, and that's why I like seeing them! The Ice House at the Royal Botanic Gardens, Kew, was built in the middle of the 1700s and ice was taken - or "harvested" as the notice told me - from several nearby ponds. I wonder if any pond wildlife found its way into those blocks of ice?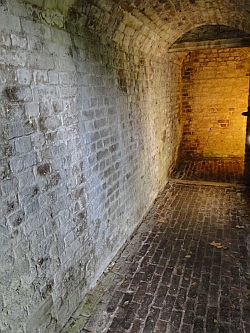 Entering the Ice House...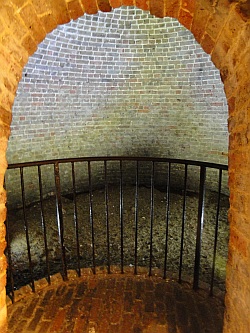 The walls and domed ceiling
The floor :)
As I was quite cold and wet at this point, it was time for a fast walk across the gardens to the Treetop Walkway.
But just by the Walkway I popped into the Temperate House to dry off a bit.

The temperate house
The Temperate House has been restored since I took these pictures. It will reopen on 5th May 2018 - just in time for my summer visit to the UK!
So here is what the Temperate House used to look like: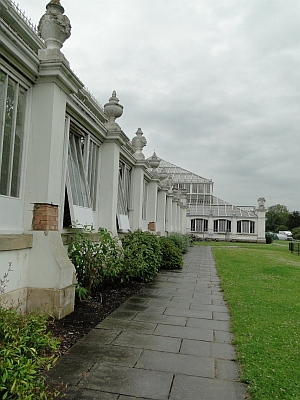 Exterior of the Temperate House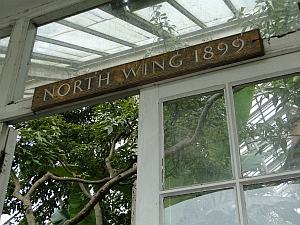 North Wing entrance
Inside the Temperate House
Araucaria heterophylla - Norfolk Island pine on the right, the darker coloured tree
The winding staircase
The Treetop walkway and sackler crossing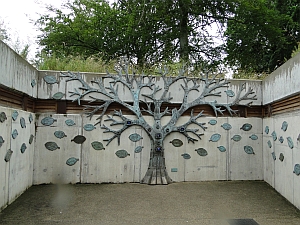 Treetop Walkway entrance
The Treetop Walkway is 18 metres high and 200 metres long. There are some fine views and it's not a bad place for plane spotters, either!
I was hoping to see a wider variety of trees here, but you can't have everything! There was plenty of Castanea sativa - sweet chestnut - and oak, too.

Sweet chestnuts - and my umbrella!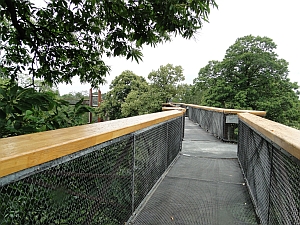 Through the treetops...
View of the Temperate House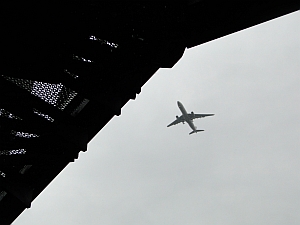 Time to check my flight app!
My last port of call was Sackler Crossing, built in 2006: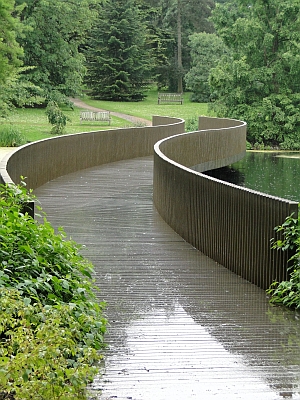 Sackler Crossing
And now I was well and truly soaked! So that was the end of a wonderful tree walk and I'm looking forward to another visit as soon as I can.
Royal Botanic Gardens Kew website
---