Westonbirt arboretum

Japanese maple leaves
European larch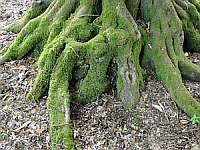 Hornbeam roots
Westonbirt Arboretum is a huge place with a lot of huge trees! The arboretum was founded in the mid 1800s by Robert Holford, owner of the Westonbirt estate in Gloucestershire, England.
According to the Forestry commission's info about Westonbirt there are around 15,000 labelled trees to see - quite a mind-blowing number!
I took over 350 photos in 5 hours and have chosen the most interesting for you to see here. All of these pictures are from the Old Arboretum.

my walk around westonbirt arboretum
We start off in the ladies' loo again! No greenery in here, unlike at Kew - unless you count the loo doors ;)

Ladies' bathroom at Westonbirt
My walk started at Down Gate, the entrance to Mitchell Drive, which is named after William J. Mitchell, the first curator of the arboretum. You can immediately see that there are going to be a lot of impressive trees to take in!
To the left of the gate stands Acer griseum, the paperbark maple; and to the right, a wonderful Acer palmatum 'Atropurpureum', the purple Japanese maple:

Down Gate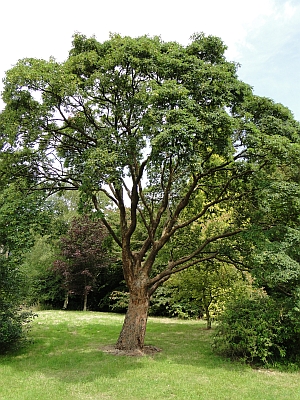 Paperbark maple
Paperbark maple leaves
Purple Japanese maple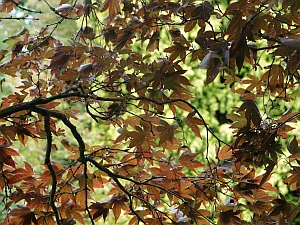 Purple Japanese maple leaves
You can enjoy more of Westonbirt's maples a little further down the page!

******************

The Fagus sylvatica 'laciniata' is a cut-leaf beech with leaves that don't look like your usual beech, although the beechnuts give the game away: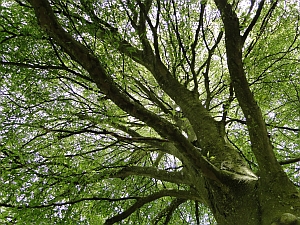 Cut-leaf beech branches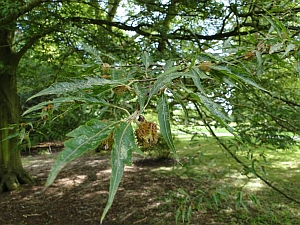 Cut-leaf leaves and beechnuts
******************

I was excited to see a tree of the Nothofagus genus, whose trees hail from the Southern Hemisphere.
This fine specimen is of the species Nothofagus obliqua - the Roble beech. What the tree's label didn't tell me was that this tree received a new Latin name in 2013 and is now called Lophozonia obliqua. And, as with many of our tree friends, it has other common names, one of them being the Patagonian oak, a reference to its Chilean and Argentinian origins: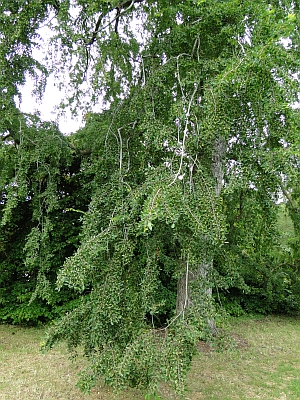 Roble beech tree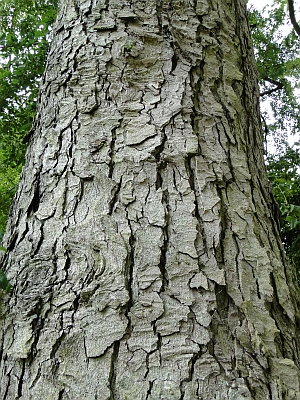 Roble beech bark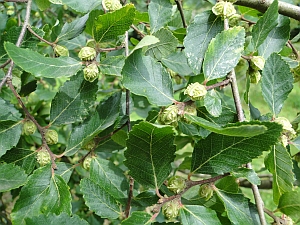 Roble beech leaves and nuts
******************

Our next tree looked like the star of a sci-fi movie. And that movie would be called Betula ermanii - or Erman's birch!
Some of this tree's branches stretched out almost at right angles from the trunk; and its shredding bark adds yet more interest:

Erman's birch trunk
View standing under one of the branches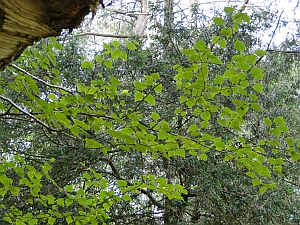 Erman's birch leaves
******************

Now for something a little shorter - Cornus kousa, the Kousa dogwood. Sometimes a tree, sometimes a shrub, this one was beautifully shaped. I missed the flowering season but the fruits were on full display:

Cornus kousa
Kousa leaves
Cornus kousa fruits
******************

Here's Abies delavayi, Delavay's fir, a very pretty tree with attractive leaves and cones. One of a number of trees - including the Magnolia Delavayi I saw in Kew - named after Père Jean-Marie Delavay, a botanist and missionary to China:

Delavay's fir
Delavay fir leaves and cone
******************

Another large tree, the common hornbeam, Carpinus betulus. Its bark is smooth and you may see the nuts of this tree surrounded by pointy, leafy-looking bracts. There are three bracts around each nut. I was so fascinated by this wonderful arrangement that I made a close-up of a nut within its three-lobed bract - not a perfect shot but you'll get the idea I hope:

Common hornbeam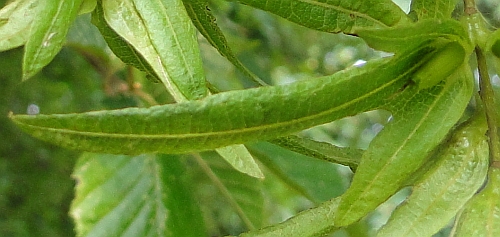 Close-up of nut inside its bract
Bracts of the common hornbeam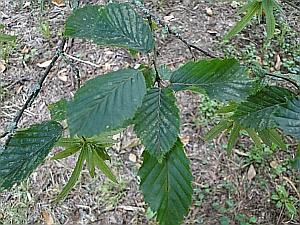 Hornbeam leaves
phew! let's relax ... with more of westonbirt's maples :)
Westonbirt Arboretum is famous for its spectacular autumn maples, although the summer ones shown below are also great!
You'll observe some very interesting leaf shapes as well as maple bark that doesn't look anything like you'd expect - unless you are familiar with the snakebark maples, whose bark does indeed resemble snakeskin. 
Take a look at our first snakebark maple: Acer morifolium, the mulberry leaf maple: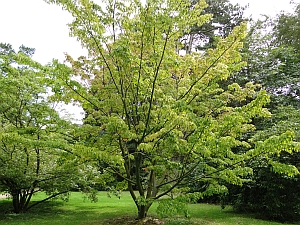 Acer morifolium: mulberry-leaf maple
Acer morifolium leaves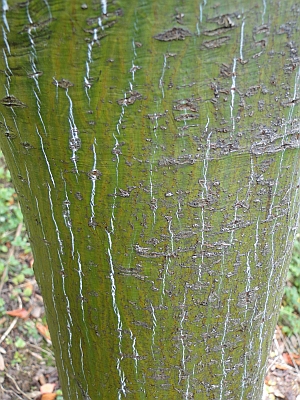 Acer morifolium bark :)
******************

Another of Westonbirt's snakebark maples is Acer pectinatum subsp. Forrestii. I'm not aware of a common name for this tree and I'm going to guess that it's named after George Forrest, another adventurous botanist who also visited China:

Acer pectinatum subsp. Forrestii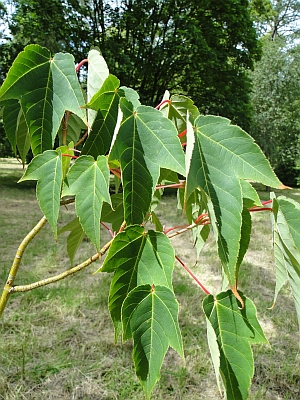 Beautiful big leaves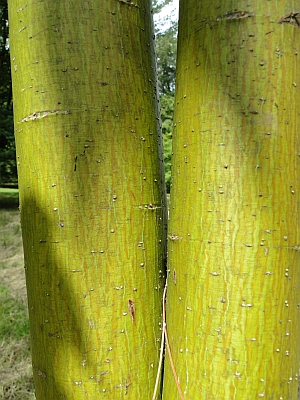 Fabulous bark!
******************

Acer pensylvanicum, the striped maple, or moosewood, is another snakebark. I saw two moosewoods at Westonbirt, one a young tree, the other a fuller-grown tree:

Striped maple
More mature striped maple
Striped maple leaf
Striped maple bark
******************

This is Acer japonicum - the full moon maple, or just Japanese maple: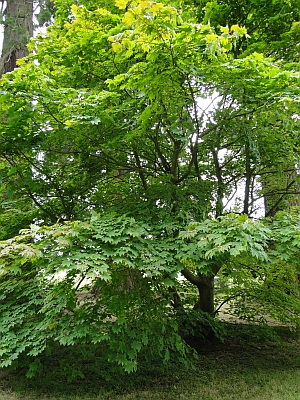 Japanese maple tree
Japanese maple leaves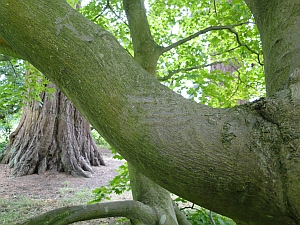 Japanese maple bark
******************

Two fabulous trees to finish off our maples: on the left, Acer palmatum 'sanguineum', a Japanese maple; on the right, another Acer palmatum 'Atropurpureum', the purple Japanese maple: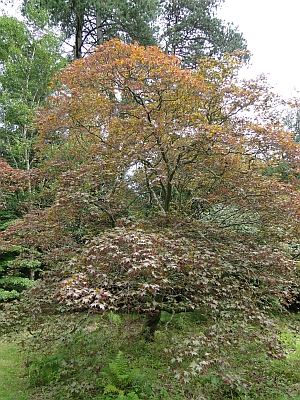 Acer palmatum 'sanguineum'
Acer palmatum 'sanguineum' leaves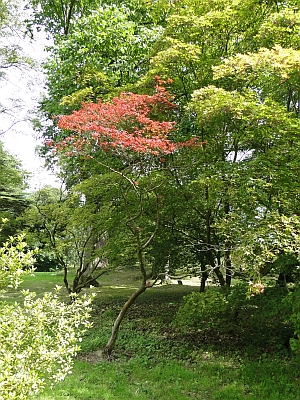 Acer palmatum 'Atropurpureum'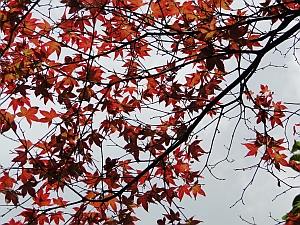 Acer palmatum 'Atropurpureum' leaves
more stunning trees, more amazing leaves

There's a lot more to see of Westonbirt Arboretum, but I'm going to share just a few more trees that definitely deserve your attention!

Let's begin with Koelreuteria paniculata, the goldenrain or pride of India tree. This is one of my favourites, as the shape of both tree and leaf is lovely: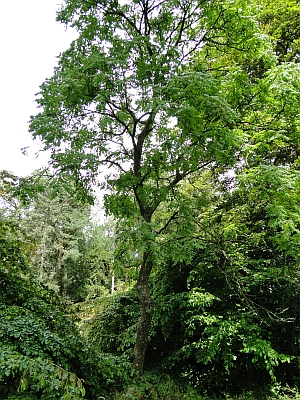 Goldenrain tree
Goldenrain leaves
******************

Here's another winner in the interesting leaf competition: Liriodendron chinense, the Chinese tulip tree:

Chinese tulip tree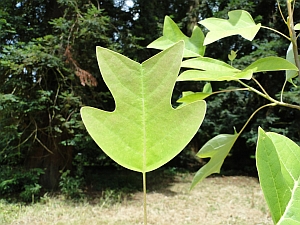 Chinese tulip tree leaf
******************

I don't know about you, but when I think of what we in the UK call poplar and our friends in North America call cottonwood, I imagine a tall tree with relatively small leaves.
Populus lasiocarpa must be a bit of a rebel as its leaves are wonderfully big! And I love the common name for this tree: the Chinese necklace poplar: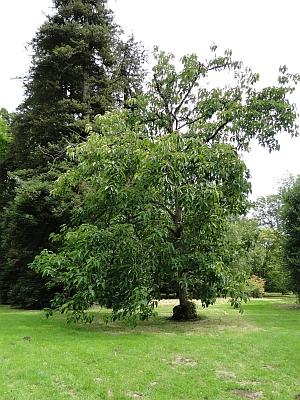 Chinese necklace poplar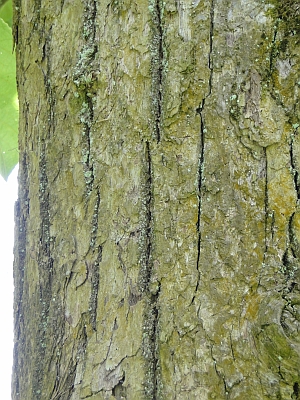 Chinese necklace poplar bark
Chinese necklace poplar leaf
******************

A similar story can be told about two trees from the species Tilia - basswood in North America, lime in the UK, and also called linden. I usually expect limes to have smaller leaves than the ones below!

Check outTilia heterophylla, the white basswood tree: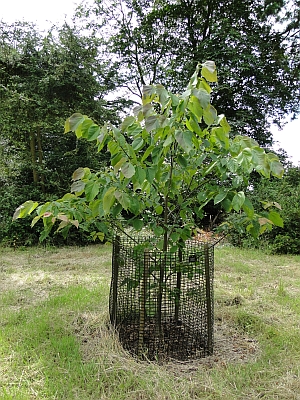 White basswood tree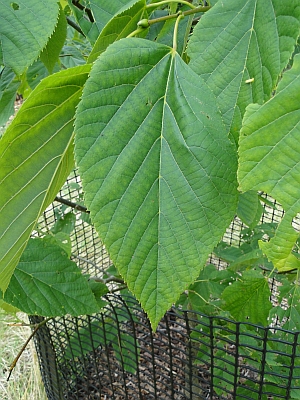 White basswood leaf
******************

Another basswood or lime with large leaves is Tilia oliveri, Oliver's lime. This was an impressive tree:

Tilia oliveri
Tilia oliveri bark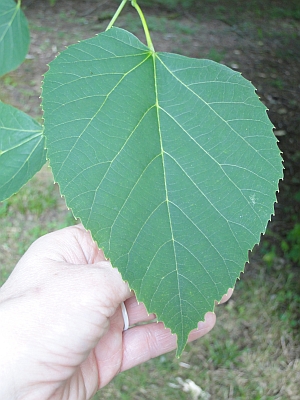 Tilia oliveri leaf
More large leaves on a whitebeam, this time!
Meet Sorbus thibetica  'John Mitchell', the Tibetan whitebeam. What a tree this is, love the rounded leaves and the calm grey bark:

Tibetan whitebeam
Tibetan whitebeam leaves
******************

For our last "big-leafer" I'd like to present Carya - a hickory tree!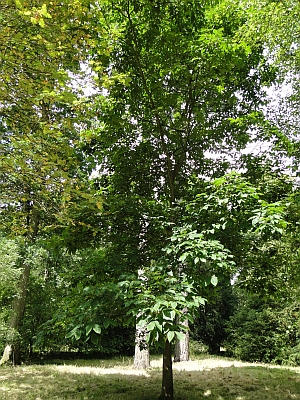 Hickory tree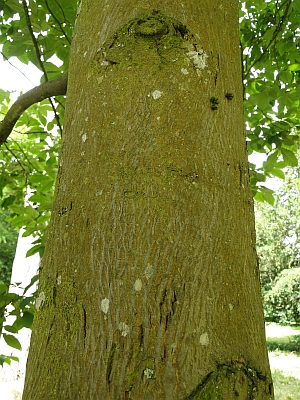 Hickory bark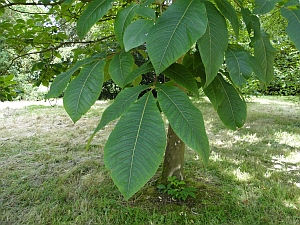 Hickory leaves
a nice little group of trees to end our walk

Griselinia racemosa is native to Chile and Argentina - and I haven't found a common name for it. The genus Griselina is named after the 18th century Italian botanist, Francesco Griselini - yet for some reason I had convinced myself that this tree was named after a female botanist ;)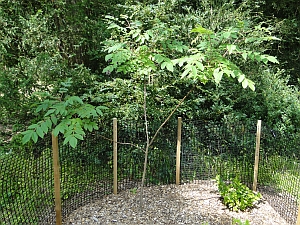 Griselinia racemosa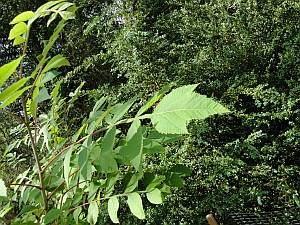 Griselinia racemosa leaves
******************

Next up: Zanthoxylum ailanthoides. Does this sound like some kind of toothpaste to you? If so, no wonder, as this Asiatic plant is called the Japanese toothache tree as well as the ailanthus-like prickly ash!
According to the label, our toothache tree is native to Japan, China, Korea and Taiwan: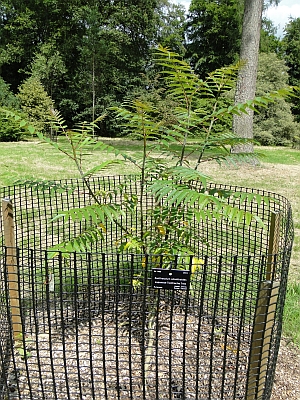 The toothache tree
Toothache tree leaves
******************

Aha! A Eucalyptus! Yes indeed, this is Eucalyptus brookeriana or Brooker's gum, named for Murray Ian Hill Brooker, a eucalpyts expert:

Brooker's gum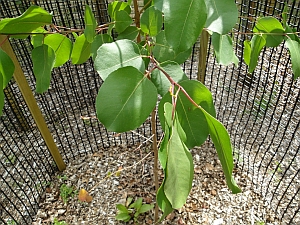 Brooker's gum leaves
******************

Our last tree today is Cordyline australis, the cabbage tree, which hails from New Zealand. I'm hoping to get back to Westonbirt and see this tree again to check its growth:

I hope you enjoyed this walk around Westonbirt Arboretum. Let's hope I get another chance to visit soon to see yet more tree-treasures in this wonderful place!

******************